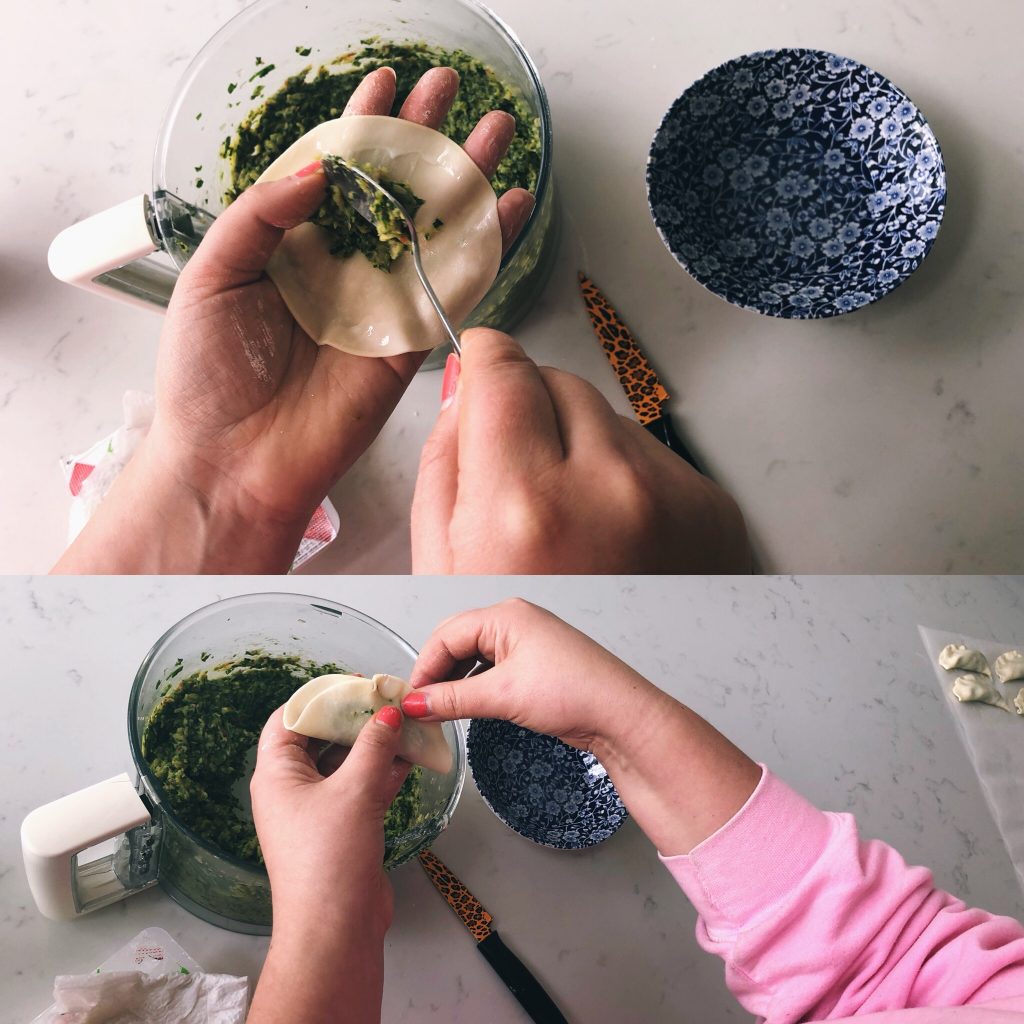 As a certified enthusiast of dumplings in all their guises, imagine my delighted dim sum surprise when I realised how easy they are to make at home. Freshly picked wild garlic adds both a mellow spring freshness, and a lovely dash of colour to the plate.
These are the Japanese gyoza members of the dumpling family. I'm deploying the "no need for a fiddly steamer" frying pan method here: so much simpler than anything else I've tried, with no need to buy new kitchen equipment and the added Brucey bonus of crispy golden dumpling bottoms to boot.
We'll be using ready-made wonton/ dumpling wrappers, available from your nearest Chinese supermarket. (Well worth a slightly terrifying trip to the local industrial estate, I say.) You'll need a blender to make the filling.
Makes 30 gyoza.
Here's what you'll need:
For the filling:
450g raw king prawns, de-veined (if you can be bothered)
4 big handfuls wild garlic, washed
225g tin water chestnuts
1 long red chilli, deseeded
3cm piece ginger, peeled
1 tsp sesame oil
1 tbsp soy sauce
30 dumpling wrappers
For the dipping sauce:
2 tbsp soy sauce
2 tbsp rice wine vinegar
3 tbsp sweet chilli sauce
1 tbsp runny honey
½ red chilli, deseeded, sliced into fine rounds
Method
Tip your prawns, wild garlic, chilli, ginger, soy sauce and sesame oil into a blender and blitz to a paste. Just towards the end, add the water chestnuts and pulse for a few seconds – so that they're mixed in, but still have texture.
Then it's on to the gyoza assembly line. Unlike the slickly automated process of, say, car manufacture, gyoza production is a far more delicate, fiddly, and imperfect. It also takes AGES so rope in some hapless fools/ friends to help.
Keep the dumpling wrappers covered with a damp cloth/ kitchen towel until needed to keep them from drying out. Prepare a clean flat surface with baking paper, place a cold bowl of water within arm's reach, then carefully peel away a wrapper and rest it in the palm of your hand. Dip your finger into the water, then run it around the edge of the wrapper in to moisten. Spoon 1 heaped teaspoon of mixture into the middle (don't overfill or it will be a nightmare to seal).
To seal, dip your fingers into the water again, then gently squeeze together the edges of the dumpling wrappers into a sort of neat-ish fan/ tiny Oriental Cornish Pasty shape. Place them fat-bottom down Repeat 29 times. I find a glass of wine helps proceedings.
Place a large non-stick frying pan over a medium flame, adding a splash of sesame oil. When hot, carefully add a batch of dumplings, flat little bottoms down, making sure none of them touch. Cook until crisp and golden underneath.
Now for the clever bit. Using a jug, pour tap water straight into the frying pan, to a depth of roughly 1cm. Do this quickly and stand back as it's likely to hiss like a pissed-off swan. Whack up the heat and cover with a lid to bring to the boil. Once boiling, reduce the heat back down to medium and, lid still on, let them steam for roughly 8 minutes. Quickly mix together your dipping sauce and set to one side.
When 8 minutes is up, remove the lid and cook off the last of the water so that your gyozas' bottoms crisp up again if needed.
Serve right away on a nice plate, dipping profusely while dramatically gesticulating with your chopsticks.