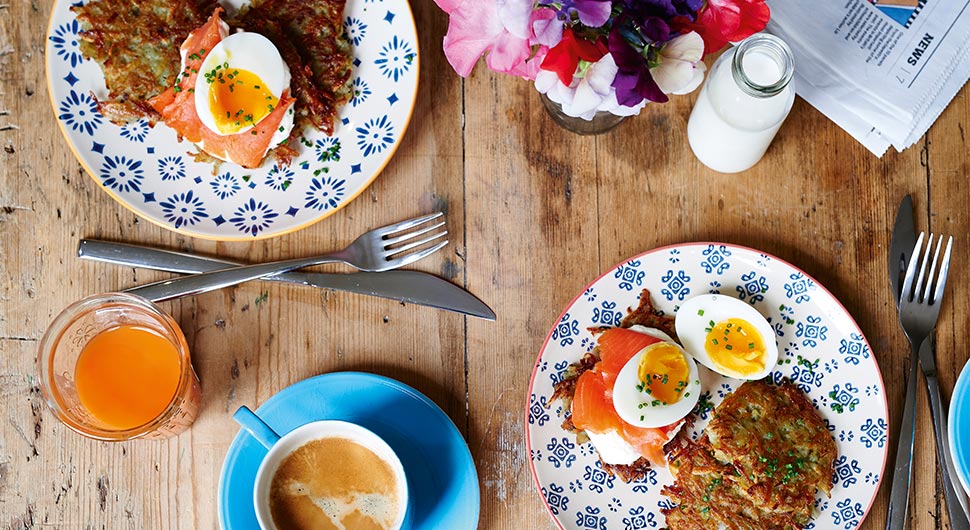 From my book How To Grow: a guide for gardeners who can't garden yet.
If you're making potato latkes for breakfast, you're going to have a bloody brilliant day. There is no bigger breakfast treat. This is also the messiest recipe I've ever had the pleasure to get all over myself and the kitchen of a morning. It relies on activating your potatoes' starch, and good lord do they get sticky. Brace yourselves. I first discovered the joy of potato latkes sitting at a counter in a proper New York deli. They made them right there in front of me, on the hot plate. It was love. Or 'lwuv' if you want to pronounce it in true New York accent.
Serves 4
Here's what you'll need:
1kg potatoes, peeled
1 big onion
25g fine matzoh meal or plain flour
1 large free-range egg, beaten
A big sprinkle of sea salt
A few big cracks of black pepper
Olive or vegetable oil, for frying
To serve (optional):
Good-quality smoked salmon
Homemade horseradish sauce
Fresh chives
or
Method
First of all, it's grating time. Find yourself a large mixing bowl, a sturdy grater and an almost inhuman reserve of energy. Grate all the potatoes and onion on the largest grater setting and mix together in the bowl (I use my hands).
Turn out the grated potato and onion onto a large clean tea towel. Roll it up and squeeze with all your strength to remove as much moisture as you can. The drier the mixture, the better the latkes will turn out.
Drop everything back into the bowl and add the matzoh meal, egg, salt and pepper. Mix well with your hands. If it's getting stuck all over you, it's going well.
In a deep frying pan, heat the oil until moderately hot. Place heaped tablespoons of the mixture into the pan a little distance apart, pushing down on each one with the back of a wooden spoon to flatten them out. Turn down the heat to medium and cook for about 5 minutes on each side, flipping when the edges turn from golden to dark brown. If they brown too quickly, knock the heat back or take the pan off the heat for a minute.
Remove the latkes from the pan and set on kitchen paper to drain. Continue cooking until you've used up all the mixture, then serve while they're still piping hot.
Serve with a dollop each of soured cream and apple sauce, or – my personal favourite – a helping of really good-quality smoked salmon, homemade horseradish sauce and a sprinkle of fresh chives.