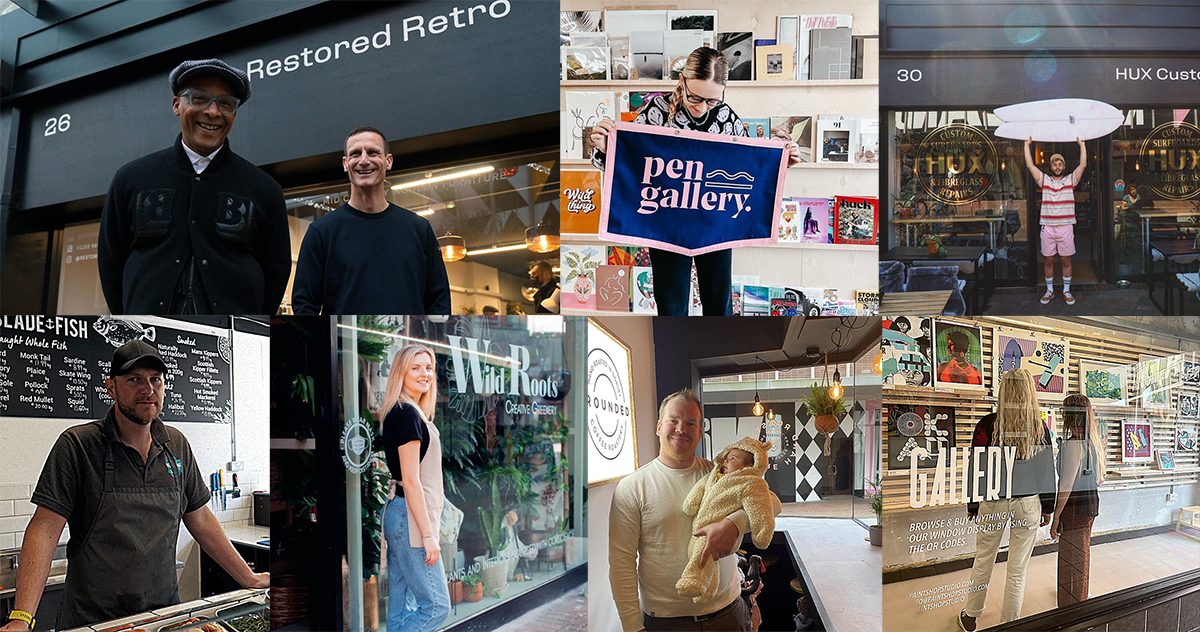 In the spring of 2019, an insane brief landed at my desk. Would I like to creative direct and make an entire high street? Yes. Yes I would. 
Legal & General had a problem in Poole. Alongside the Dolphin shopping centre, they owned a great big road of shops – which was completely empty. If you wanted to see the death of the high street, a stroll along Kingland Crescent was the gold standard. Every single shopfront abandoned and boarded up.
We had a small budget. Hardly anyone thought it would work. I had precisely zero experience in commercial retail. Yet somehow… despite global pandemic, financial crash, and never ending lockdowns… we pulled it off. By the end of 2021, 10 brilliant local business were up and running in their new homes. A previously abandoned corner of the town centre utterly transformed into a thriving hub for the local community and young businesses alike. From the BBC to the New York Times, this is the story of a Dorset miracle. It's also a bit of a read, so pour yourself a whiskey and pull up a chair.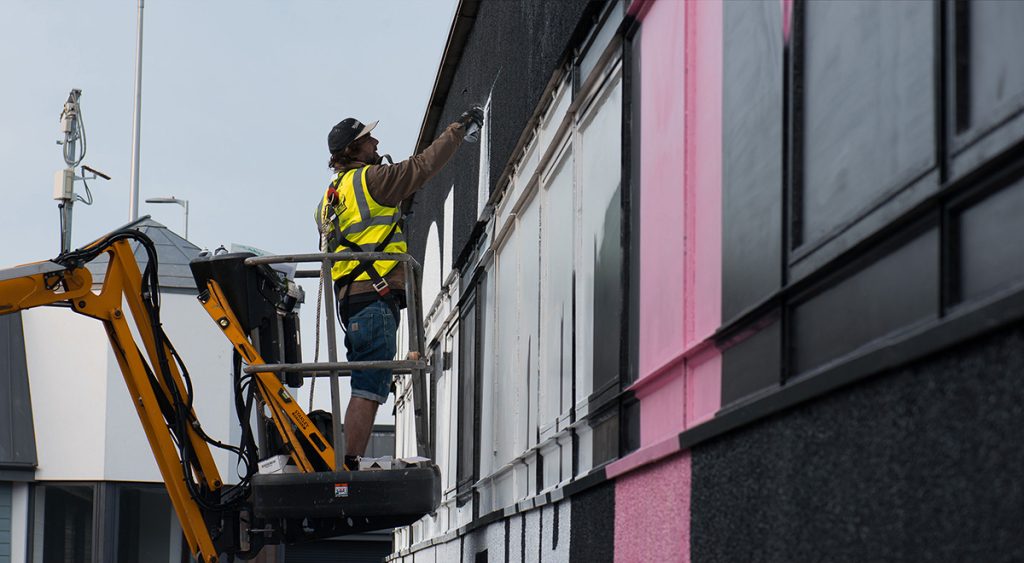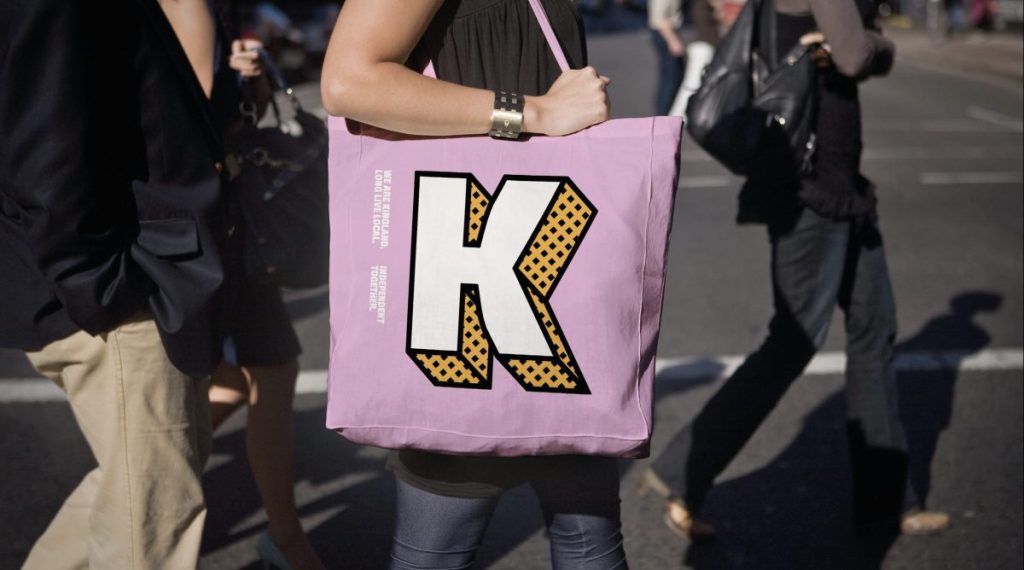 THE IDEA
It was a bold offer. I somehow persuaded L&G to drop rent and rates for 2 years. That's nearly £80,000 a shop! No wonder small local businesses have abandoned the high street. And that's exactly who we wanted. 10 young, local, entrepreneurial businesses who would never in a million years be able to afford to open a shop here otherwise. Shops, workshops and cafes that people would happily travel for miles to visit. Starting on one side of the road, we would strip and refurbish each unit to create a brand new 'shell' for each brand to fit out and stamp their own personality onto. After that… it was up to them.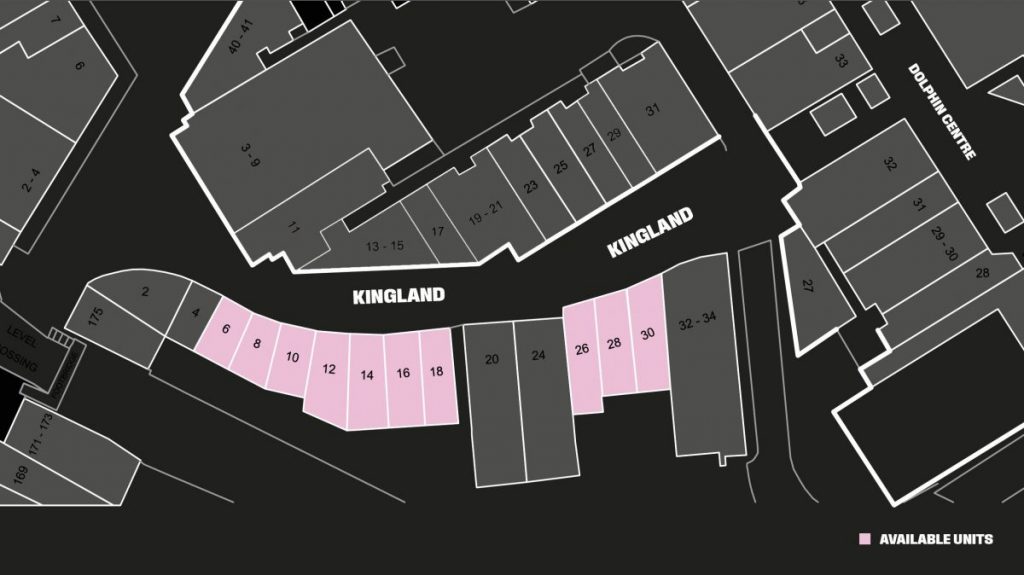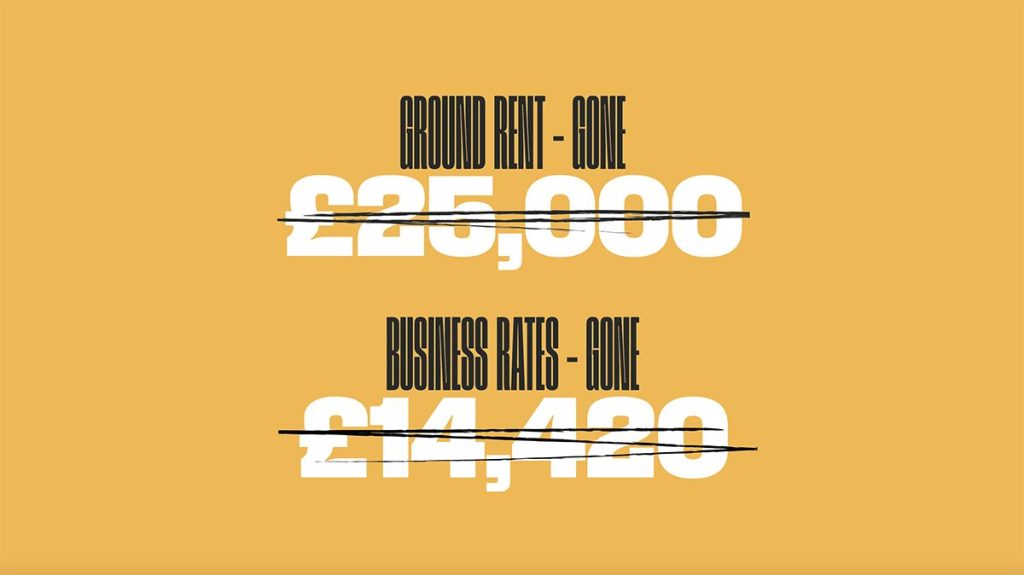 THE BRAND
This needed to be big. Immediate. And let's face it… pretty in your face to attract a young trend-driven crowd to the notoriously depressing Poole high street, (and gently antagonise the Daily Echo's comments section). Just up the road from Arts University Bournemouth, this area is brimming with design talent. I brought in local legends MEGA design studio to work their magic. We didn't just need to inspire the L&G board; we somehow had to inspire people to take an enormous risk and move to the barren wasteland that was Kingland Crescent. And alongside comms, the brand needed to translate (and I still can't believe we got away with this) to massive great mural artwork painted along the buildings of the entire street.
LONG LIVE LOCAL. Independent together.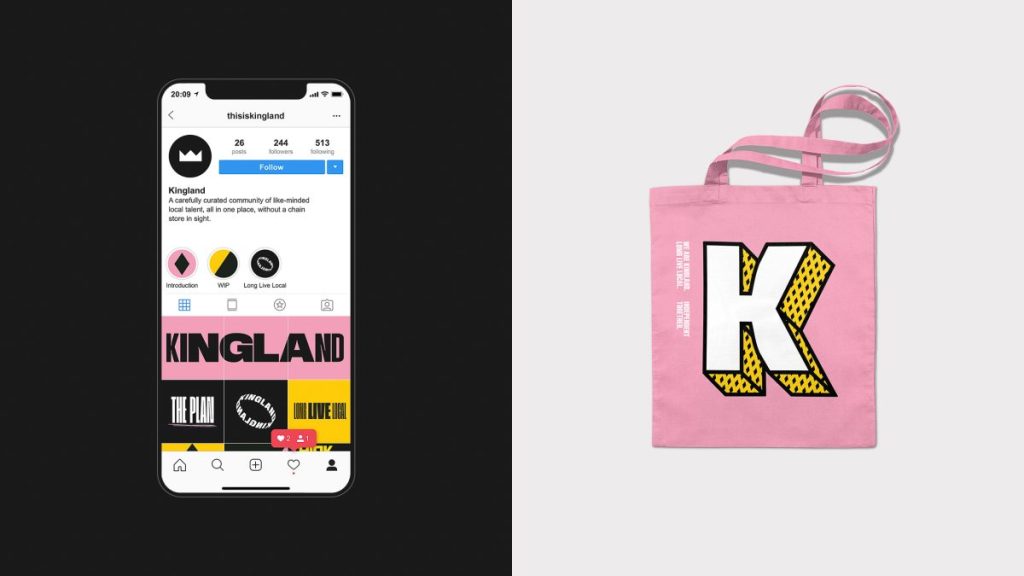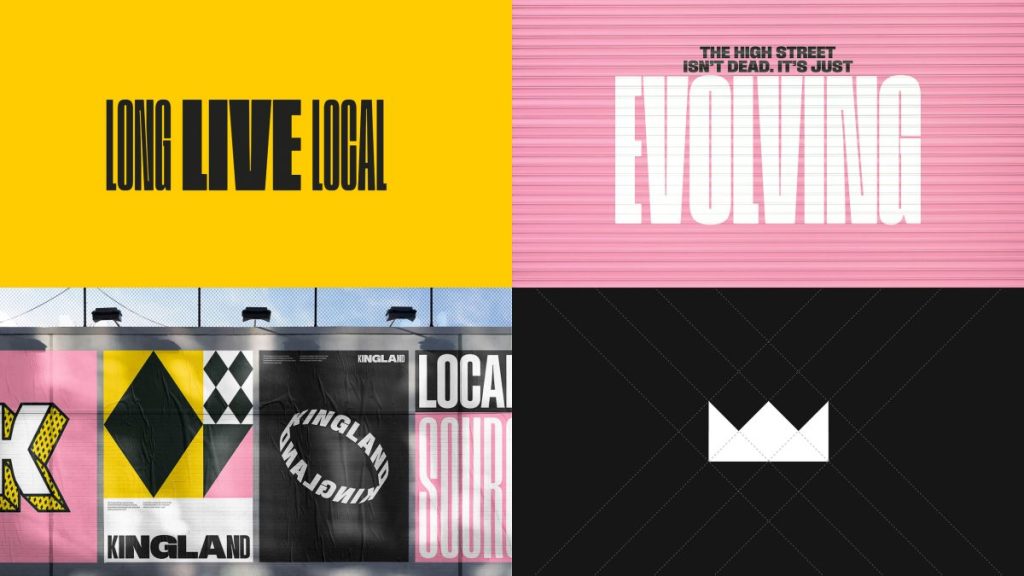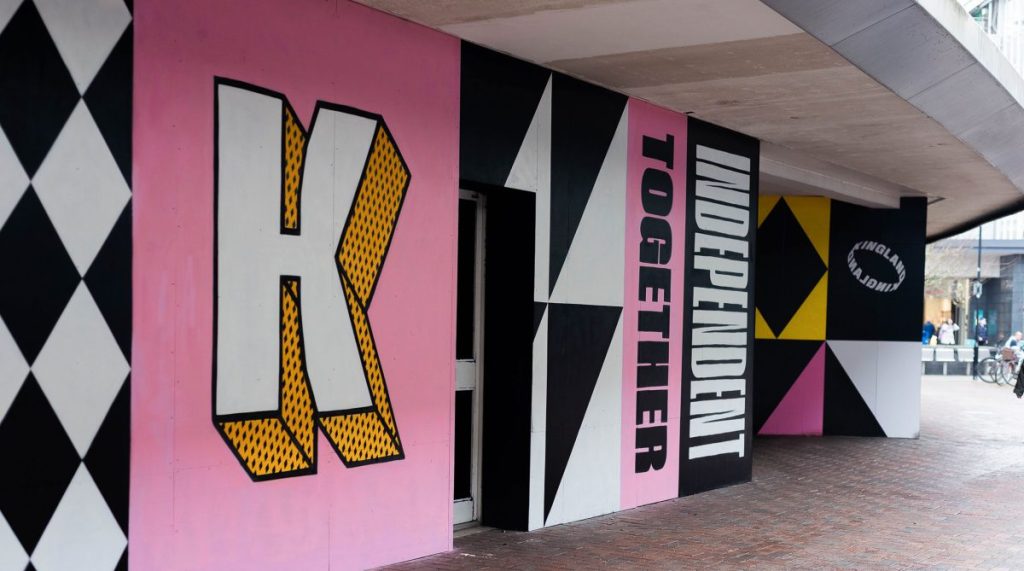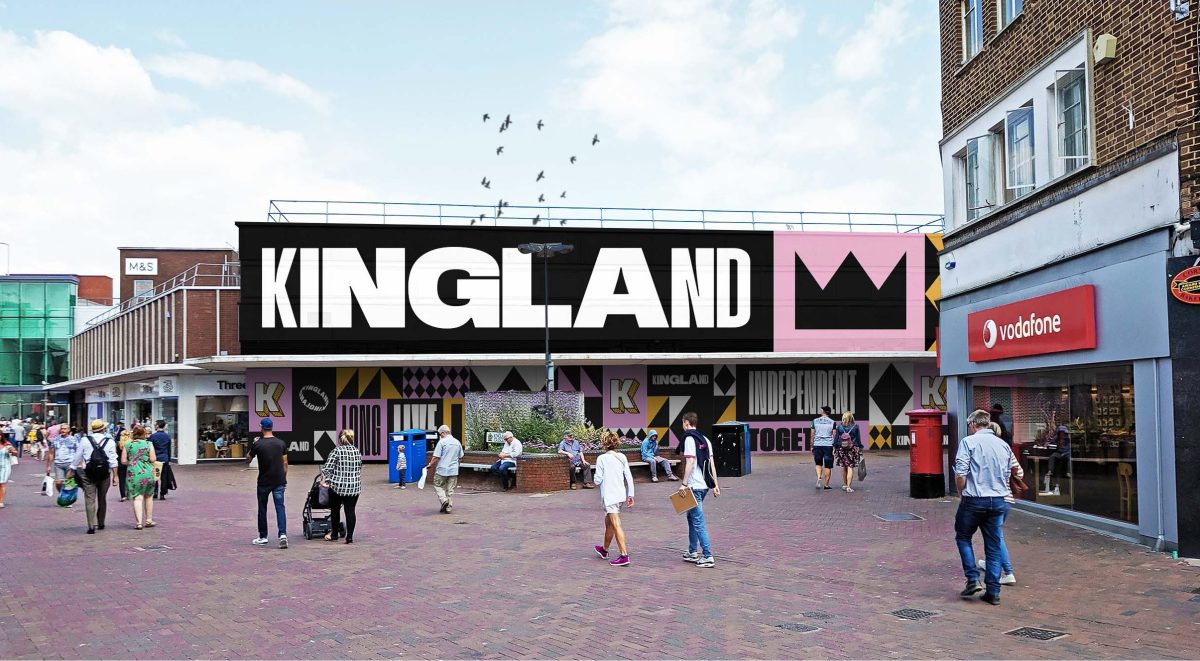 THE UNITS 
Holy hell, the units were in a state. Years standing empty had taken their toll. With a tiny budget in commercial retail terms (circa £20k – £25k per refit) we certainly couldn't replace shop fronts. And we couldn't undertake major work inside either. Working with Aberrant Architecture, we translated the Kingland brand into a simple refresh. Fronts sprayed, pops of colour added, Kingland typeface applied above the door for each shop – it pulled the road together and acted as a 'frame' for each brand to stamp their own personality. Inside, we worked with what we had.  Uniform ceilings and lighting, simple spruced-up shells, a blank canvas ready to be fit out by the new shops. During this time I essentially became 'Stath Lets Flats'.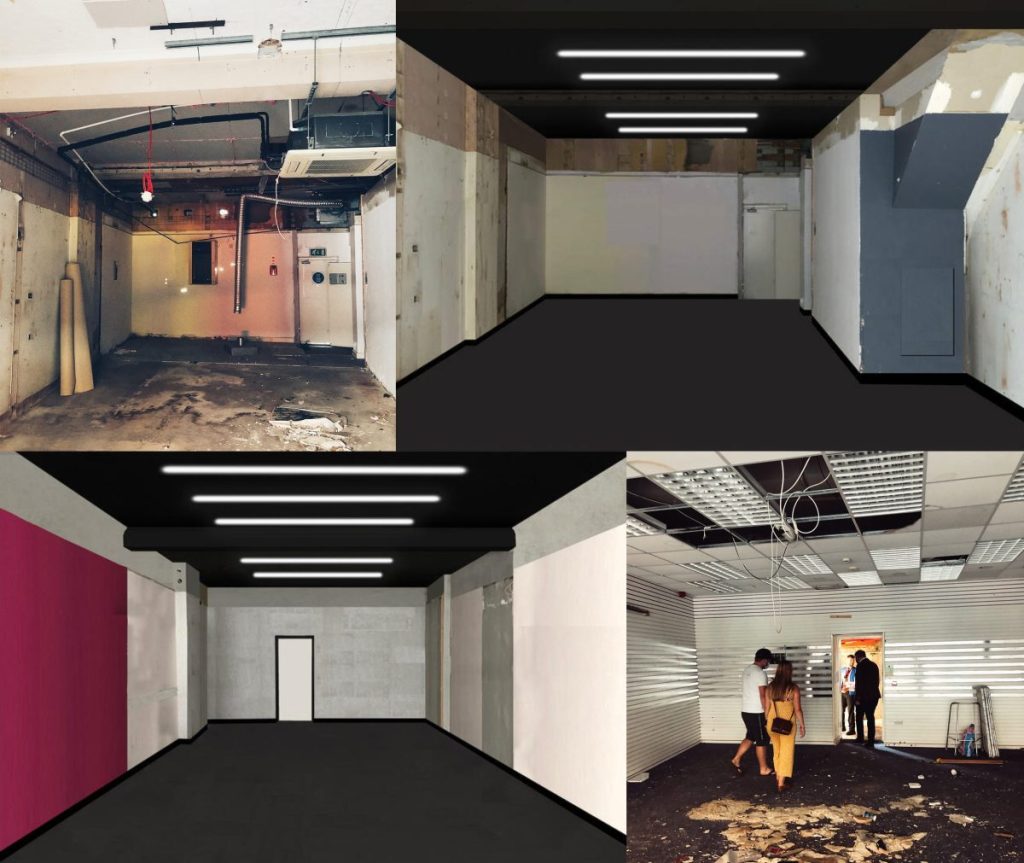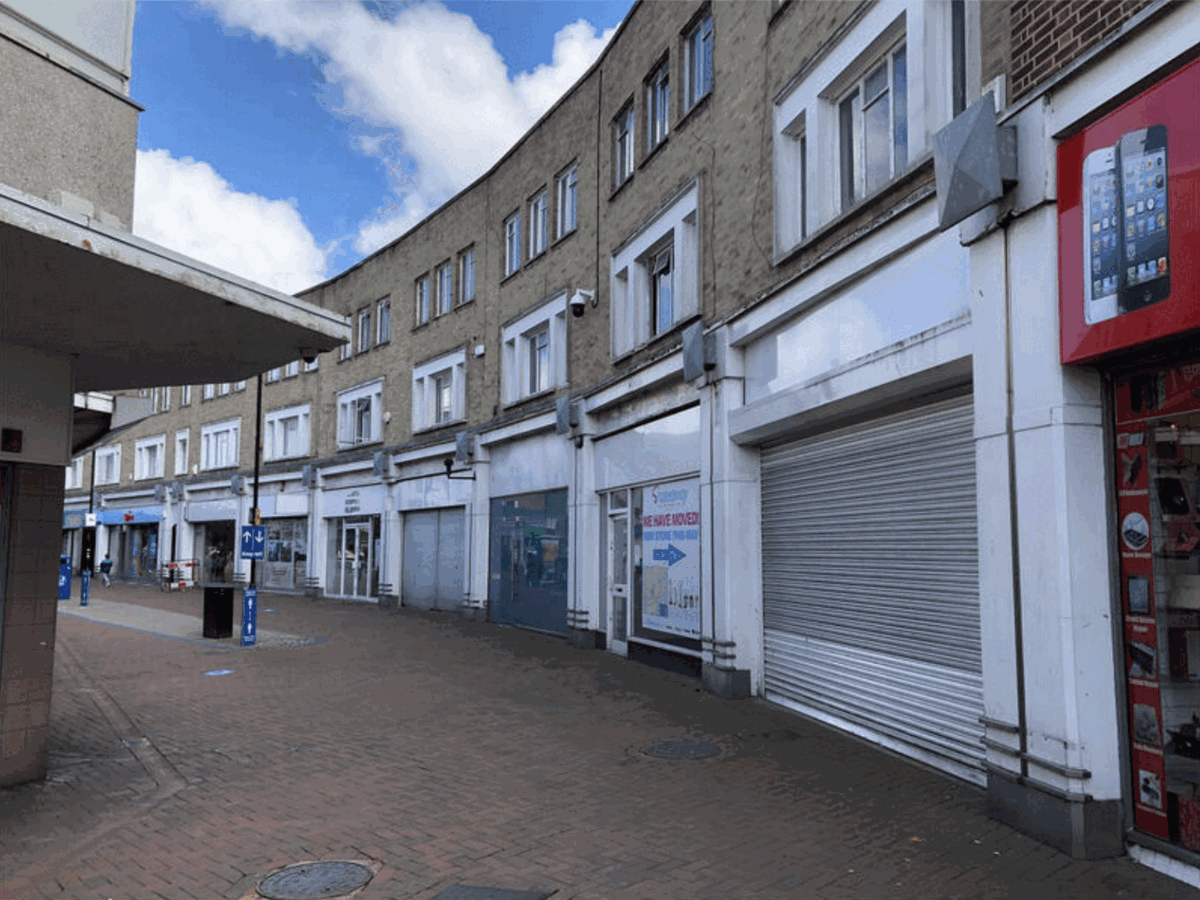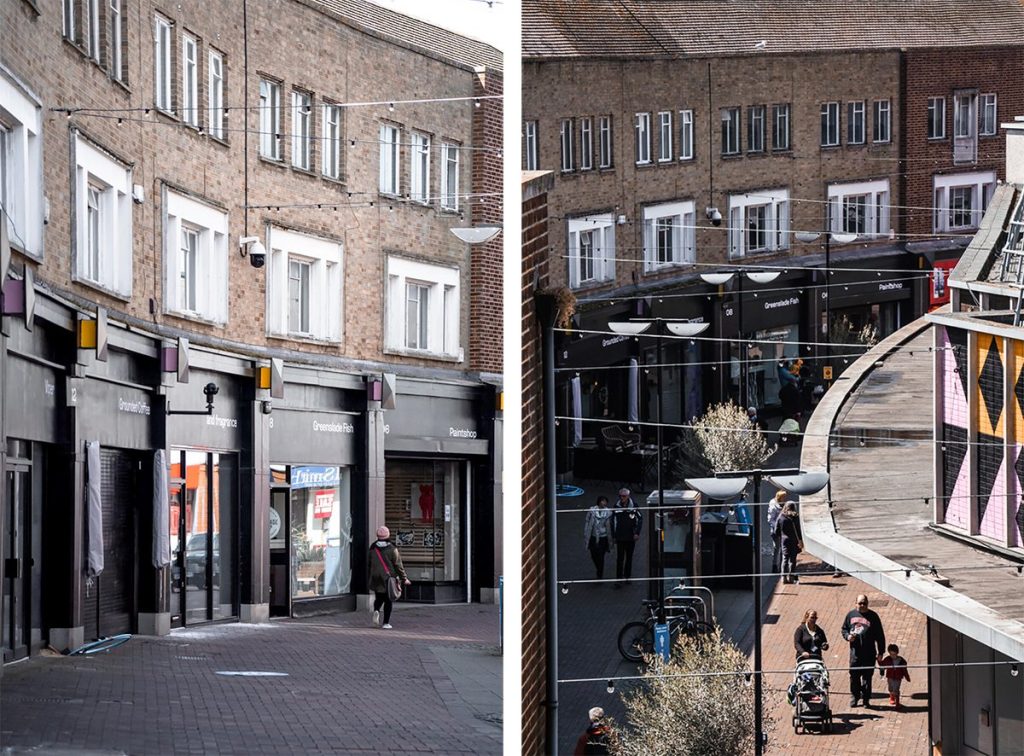 THE BUSINESSES
So we had a banging brand. An unmissable mural-filled street. Fresh new units. Now all we needed were the businesses. How the fuck was I going to do that?
I'd met a few people having recently moved back to the area, so started with little Instagram post in the hope that some might share it. "We're offering 10 units RENT + BUSINESS RATES FREE for 24 months. Cafes, yoga studios, plant shops, clothing brands, interiors, galleries. If you or someone you know has always dreamed of having a space on the high street but have never been able to afford it, I need to hear from you."
I nearly had a heart attack… It resulted in over 400 applications.
But I had a very clear idea of what we needed. Recreating the traditional high street of old – fishmongers, grocers, somewhere for a bun – through a contemporary lens. Dorset has an outrageous creative and entrepreneurial offering, but the companies and people are spread out all over the place, often cult in-the-know brands without a mass following. Kingland would be somewhere to bring them together. Not just shops, but workspaces, workshops and studios. A living, thriving showcase of local talent. 
It took a lot of interviews. Roughly 1,000,000 chats over coffees. But the final companies blew me away. The moment they moved in, Kingland came alive again. Have a look at the 10 shops below. A ruddy triumph. And luckily for me, our brilliant social agency The Ready House made a series of films to show you around.
–
HUX Customs: a young local surfboard shaper in need of a workshop. Coffees served in the front, surfboards shaped in the back.
Greenslades Fishmonger: the legendary Poole fishing family. Having run market vans for years, Tim finally has a proper fishmonger.
Grounded Coffee: a working coffee roasters in the back, extremely busy coffee shop in the front, with an events space upstairs. There's no stopping them.
PEN Gallery: showcasing ground roots talent from the young art community. Gallery space in the back, shop selling local makers' products in the front.
Restored Retro: mid-century furniture restoration in the back, show room in the front. Steve's is a particularly brilliant tale. Having been through 14 years of heroine addicted hell, including a stint in prison, he learnt to restore furniture in rehab. Steve still can't believe he has a shop.
Wild Roots: indoor plant shop and consultants, running commercial projects from the office, while selling some of the nicest interiors in the area.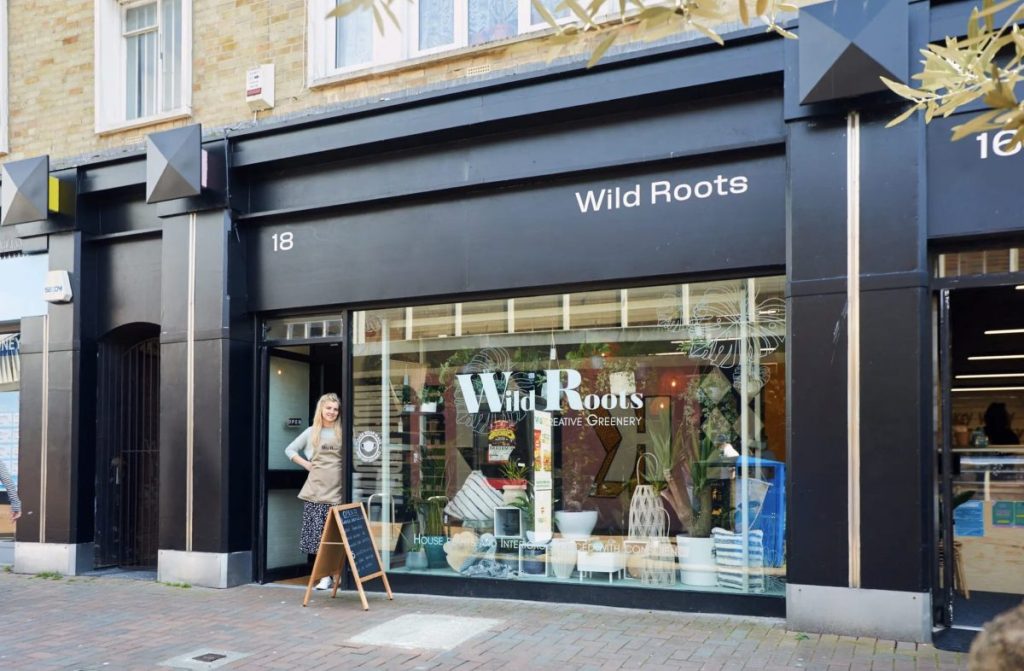 Ten Foot Naked: packaging free groceries. This is our modern take on the grocers, including fresh fruit and veg from local area alongside staples.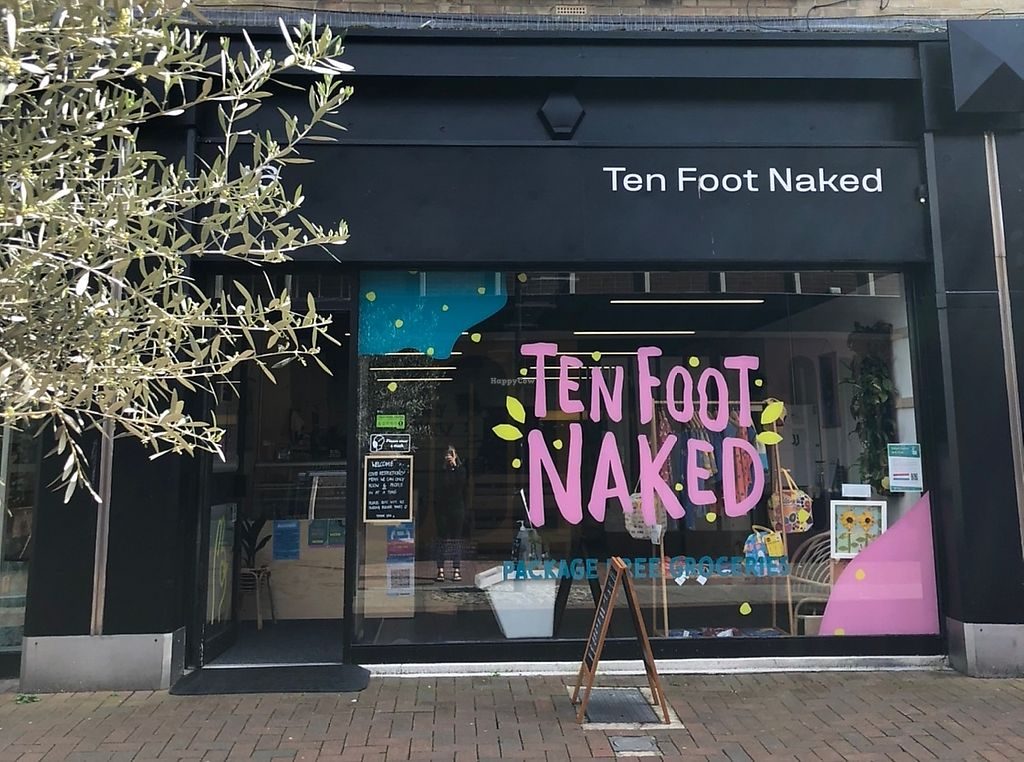 Viper Gin: the first gin and cocktail bar from the local gin brand. Showcasing their latest products, and knocking up a damn good Negroni.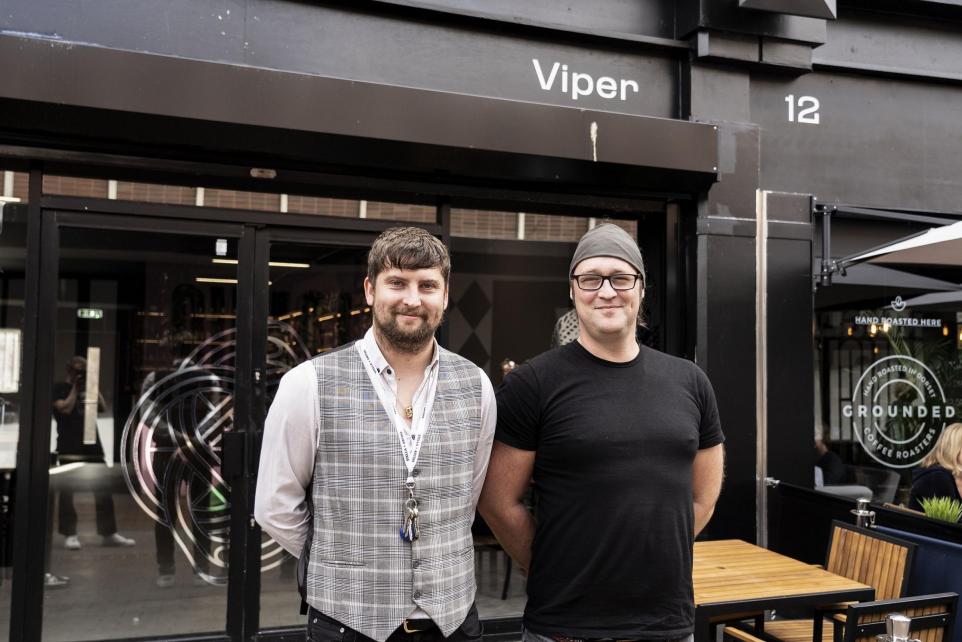 And Fragrance: the ethical perfume brand from LUSH protégé Simon Constantine. HQ offices in back, showcase retail space in front.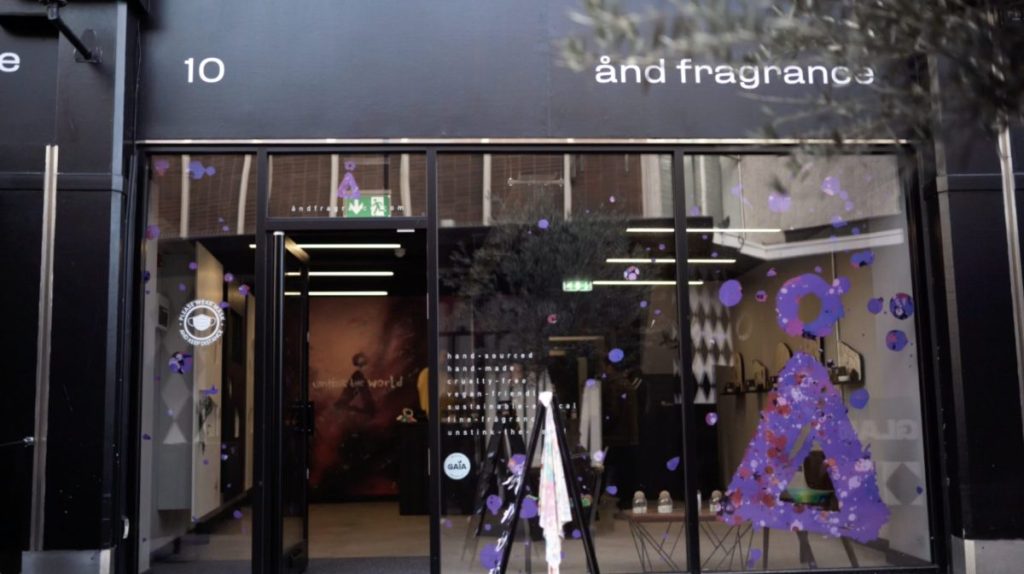 PaintShop Studio: this is the HQ design studio for cult street art/ design agency PaintShop Studio. A blend of office and gallery in one.
What a ride.
One hopeless high street regenerated. Young businesses given a leg up. Community brought together. And finally, somewhere decent for me to shop.